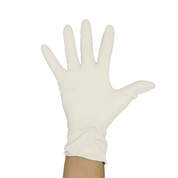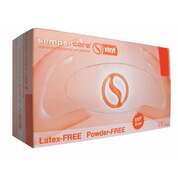 Vinyl gloves are low cost and durable, making them popular in care homes, food preparation and cleaning industries. They have great strength and offer a good resistance to mild chemicals. Vinyl is an excellent alternative to latex gloves, however it does not offer the same tactile properties as latex or nitrile, nor is it as flexible as latex.
Our best value glove
Conform to BS EN 455 part 1,2 and 3
Contains no allergenic proteins and is latex-free
Beaded cuffs minimise the risk of tearing
Food safe
Medical grade AQL 1.5
Suitable for food preparation, cleaning and non-invasive tasks such as changing pads, washing and treating patient wounds, etc. If you require a glove that has a greater resistance and sensitivity try our latex gloves, for those with latex allergies we also sell nitrile gloves.
Powder-Free Vinyl Gloves - Powder free design contains fewer chemicals and fewer proteins, as a result these are significantly less allergenic and more skin tolerable.
Powdered Vinyl Gloves - Pre-powdered to aid application, increase user's comfort and to absorb perspiration.
Blue Powder-Free Vinyl Gloves - Suitable for food preparation tasks. The powder-free construction and it's high visibility makes it ideal for catering and food industries.
Sterile Powder-Free Vinyl Gloves - Individually wrapped in a sterile field for additional protection where there is a risk of infection and cross-contamination.