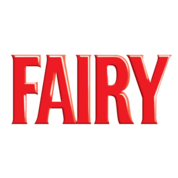 With nearly 70 years' experience, Fairy has developed a market leading range of products ideal for the professional market. From Fairy washing up liquid, to Fairy dishwasher detergent and Fairy non bio laundry detergent, your cleaning jobs are made easy.
Fairy professional washing up liquids is of professional, Fairy non bio laundry detergents and Fairy dishwasher detergent and rinse aids have been developed by P&G to outperform the rest of the market. Fairy washing up liquid lasts up to 50% longer than the next best-selling product, with unrivalled cleaning performance on pots and pans, tableware and utensils.
Fairy dishwasher detergent and rinse aid works in conjunction with professional dosing systems, ensuring crockery and pans are sparkling clean.