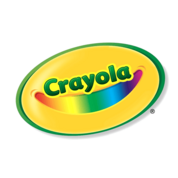 Crayola believe in the power of creativity and that every child should be able to express their dreams and imagination. This has been at the heart of Crayola since the first crayons rolled off the production line in 1903. Crayola are committed to providing safe and high-quality products that allow children to engage in creative play.
From Crayola crayons, to Crayola marker pens and Crayola chalk, you will be sure to have passionately produced products suitable for teachers and parents alike.
Crayola believe in unleashing the originality in every child, inspiring them to grow in to original adults, who in turn will be able to inspire and change the world.