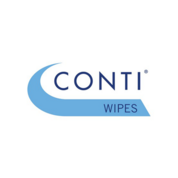 A leading brand for over 35 years, Conti patient cleansing wipes by Vernacare have been developed by experts to support healthcare workers in delivering excellent standards of care for their patients. These dry wipes combine strength, softness and absorbency and are the ideal solution for everyday patient cleansing.
Conti wipes are manufactured in the UK using high quality raw materials, ensuring unparalleled quality and performance in the care environment. They have been independently proven to be significantly more absorbent than other leading brands.
This range of patient cleansing dry wipes offers a number of options such as the cost effective standard dry wipes, Soft and Supersoft wipes great for fragile skin as well as the flushable wipes, which pass the latest EDNA GD4 dispersibility testing.