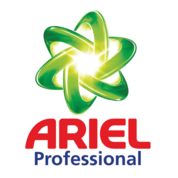 Ariel non bio and bio laundry detergent first appeared in the UK in 1967 and is now known throughout the world.
Ariel laundry powder detergents and liquids have been specially formulated to deliver outstanding cleaning results in every wash. The Ariel autodose laundry liquids are ideal for use with dosing systems, giving great cost in use benefits to care homes.
Ariel biological laundry liquid and powder detergents have excellent stain removal and efficiency at low temperatures. The professional Ariel range has more active ingredients than the non-professional range, giving superb results in every wash.