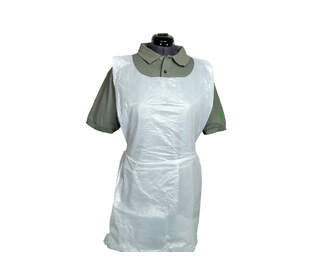 Disposable Polythene Aprons - Rolls of 200
Order in the next
11 hours 55 minutes
for delivery
tomorrow
*
Our disposable polythene aprons on a roll protect clothes from liquid spills and splashes and form part of an effective infection control strategy.
Made from 10 micron polythene, our single use premium disposable aprons on a roll are liquid resistant and prevent the transfer of fluids, perfect for catering, cleaning, dentistry, first aid and medical procedures.
The roll pack allows the easy non-stick hygienic removal of each apron. A Dispenser for Aprons On A Roll is also available, improving hygiene and ease of use.
Halter neck and waist ties on each apron - slip on and off quickly and easily
Compact rolls for easy and hygienic storage
Economical - save time and reduce your laundry costs by never washing aprons again!
Prevent bacterial contamination and control infection by disposing of your apron when changing environments
Shoulder to above knee length. Dimensions: 1070mm x 700mm. 200 aprons per pack.
10 microns
Which colour do I need?
White - ideal for bedside, cleaning and medical environments
Blue - suitable for catering and food-handling environments
If you need a larger apron in a wider variety of colours, why not try our .
Write a review for disposable polythene aprons - rolls of 200
| | |
| --- | --- |
| Your Name: | |
| E-mail: | We will never display or pass out your e-mail address. |
| Overall Rating | |
| Please select the image of a Toilet Roll: | |