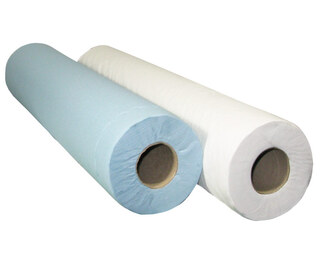 Couch Rolls 2ply x 12
Order
Today
for delivery on
Tuesday 26th September
*
Our Couch Rolls 2Ply x 12 pack have been designed for use on medical and massage couches for optimal hygiene. Made from recycled 2 ply tissue and available in both blue and white according to your preference, these durable rolls can be easily loaded into a suitable dispenser for clean and precise coverage when needed. Each roll comes individually polyethene wrapped allowing for compact and reliable storage and help to reduce patient-surface contact. Disposable after a single use, this large pack can be used in all manner of different industries from Health & Beauty through to Dentistry. Ideal for mopping up spills with their large surface area and perforated to offer approximately 111 sections for a clean tear after use, these large couch rolls make the perfect addition to any work utility cupboard.
2ply tissue for absorbent use
Recycled
Individually wrapped
Approximately 111 perforated sections
Colours available: 12
Pack size: 12
Dimensions: 580mm x 40m
For a more cushioned and premium feel, we also stock a range of Premium Couch Rolls at affordable, wholesale prices.
Write a review for couch rolls 2ply x 12
| | |
| --- | --- |
| Your Name: | |
| E-mail: | We will never display or pass out your e-mail address. |
| Overall Rating | |
| Please select the image of a Toilet Roll: | |