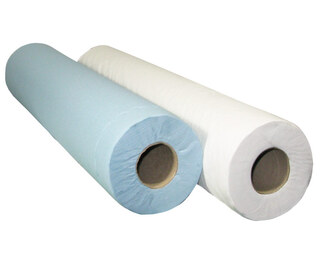 Couch Rolls 2ply x 12
Order in the next
11 hours 57 minutes
for delivery
tomorrow
*
Each Proform Couch Roll has been designed to fit all standard medical and massage couches, measuring at 508mm (20 inch) wide and 40 meters in length.  Made from recycled 2-ply soft tissue and available in both bright white or blue our couch roll is suitable for a wide range of industries including Health & Beauty, Dental, Clinical and Surgical.  One pack contains twelve individually polythene wrapped rolls to ensure each remains clean until you're ready to use them.
When used on medical and massage couches they minimise the patient to surface contact and can simply be thrown away before wiping the couch down.  Each roll is perforated into approximately 111 sections, allowing you to neatly tear off at a length to suit your application.
These rolls are also perfect for mopping up large spills due to the size of each sheet, for smaller spills we would recommend our range of Centrefeed Rolls.
If you are looking for a roll that is cushioned then we also sell packs of embossed couch rolls.
Write a review for couch rolls 2ply x 12
| | |
| --- | --- |
| Your Name: | |
| E-mail: | We will never display or pass out your e-mail address. |
| Overall Rating | |
| Please select the image of a Toilet Roll: | |