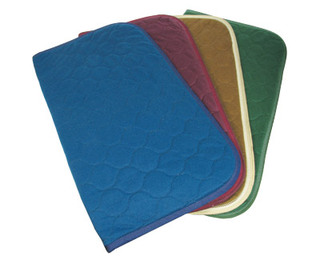 Chair Pad 21" x 22"
Order in the next
2 hours 48 minutes
for delivery
tomorrow
*
Our reliable Chair Pads have been designed for discrete and respectful use by those dealing with the issue of incontinence on a daily basis. Available in an array of colours to suit specific needs, these machine washable pads have been made from a plush velour for exceptional comfort and features an impermeable barrier to draw liquid away from the surface in minutes. Each pad can hold up to 1 litre of liquid at any given time and does so in a discrete manner to keep the dignity of your residents at the height of importance. The chair pads can also be tumble dried to reduce the wait between uses on a medium heat before being returned to the user. A plush and comfortable alternative to unsightly plastic sheets and allowing those in your care to continue with their day-to-day lives with ease.
Available in an array of colour to suit your needs
Machine washable and suitable for tumble drying on low heat
Can hold up to 1 litre of liquid at one time
Non-slip backing for added security
Colours available: Burgundy, Forest Green, Royal Blue and Brown
Chair Pad pack size: 1
Dimensions: 21" x 22"
Case size: 50
We also stock a wide range of Incontinence Products including Adult Nappies, Bed Pads and Waterproof Bedding.
Write a review for chair pad 21" x 22"
| | |
| --- | --- |
| Your Name: | |
| E-mail: | We will never display or pass out your e-mail address. |
| Overall Rating | |
| Please select the image of a Pair Of Scissors: | |