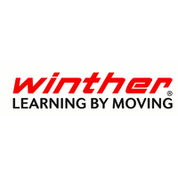 The human brain uses the body to recognise the world around us. So, when children play and have fun, it's serious business; they are actually hard at work, learning. Fortunately, children love to play and use their bodies naturally.
Winther specialises in manufacturing quality trikes and bikes for children that help develop their physical and motor skills.
A Winther product represents outstanding quality. They use first-class components and proper craftsmanship in every joint to ensure that the trikes and bikes run smoothly. With one of the strongest coatings in the world, their products are capable of resisting one of the toughest challenges; children playing every day. Because of this, a Winther product is a solid long-term investment. All our products are free of phthalates, PVC, lead and chromium-6.