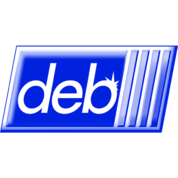 For over 80 years Deb have been establishing skin care regimes for healthcare, workplace, schools, nurseries and food sectors. Their extensive technical expertise and research ensures the soaps and sanitisers developed are market leaders. The hygienic range of deb cartridge soaps and deb sanitisers are dispensed through a unique deb dispenser system with superb cost in use benefits.
Maintaining good hand hygiene is vital for the healthcare sector and deb's three step procedure allows users to achieve this. The steps are:
Step 1: Deb Hand wash – The physical action of a good hand washing technique will remove high levels of bacteria and viruses present on the skin.
Step 2: Deb Sanitisers – Sanitisers reduce microbial counts on visibly clean hands. In healthcare the preferred active biocide is alcohol for skin sanitising without need for rinsing.
Step 3: Deb Restore – This step is most important for maintaining good skin condition. After frequent hand washing, natural oils are lost from the skin which Deb reconditioning cream can replenish effectively.