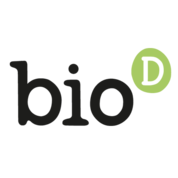 Bio-D make all products right here in the UK and have complete traceability on all the ingredients used so they know they are ethically and sustainably sourced.
Bio-D's uncompromising standards have been recognised by a number of awards over the years and are proud to be endorsed by Cruelty Free International, The Vegan Society, and Allergy UK.
They are also the only green cleaning company whose products meet the standards for commercial food preparation otherwise known as BS EN1276.
Bio-D have always used minimal, recyclable packaging but have now gone further and introduced containers made from 100 per cent recycled material across the range.