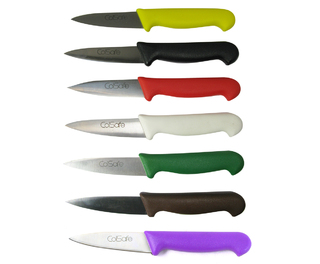 Paring Knife 3"
Order in the next
11 hours 58 minutes
for delivery
tomorrow
*
From businesses that focus on catering through to office and nursery kitchens, this Paring Knife is sure to come in handy. Designed specifically for the preparation of food, each one comes with a colour coded handle to help prevent cross-contamination during cooking. The ergonomic handle is comfortable for extended use while a high-quality stainless steel 3" blade comes sharpened to cut through everything from tough root vegetables to raw and cooked meats.
Paring knife colour coding:
Yellow: Suitable for cooked meat
Blue: Suitable for raw fish
Green: Suitable for fruits and salads
Black: Suitable for general use
Red: Suitable for raw meat
White: Suitable for dairy or bakery
Brown: Suitable for vegetables
Purple: Use as part of your colour coded kitchen system to ensure your are fully compliant when saying a product is 'free from' all stated allergens.
For all your catering needs, here at Gompels we also stock our Bread Knife 8", our Vegetable Knife 4" and even colour coded Chopping Boards to help support the cross contamination control regime in your workplace.
Write a review for paring knife 3"
| | |
| --- | --- |
| Your Name: | |
| E-mail: | We will never display or pass out your e-mail address. |
| Overall Rating | |
| Please select the image of a Pair Of Scissors: | |