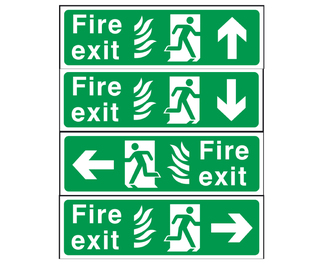 Fire Exit Sign 150mm x 450mm
Order
Today
for delivery on
Tuesday 24th July
*
A great tool to ensure the safety of every member of your workforce, these Fire Exit Sign 150mm x 450mm are easy to install. Made from a lightweight material, each one can be easily mounted on any flat wall surface surrounding your dedicated fire exits. The bright green and white compositions stands out in most standard work environments while the clear font and bold imagery allows even those with difficulty seeing to identify the best route to safety. These fire exit signs should be placed in accordance with your work fire regulations and every staff member should be made aware of their locations.
Our Fire Exit signs come in the following designs:
Exit Right
Exit Left
Exit Up
Exit Down
What to do in the event of a fire?
Never ignore the alarm or assume it is fake unless notified of a test by your safety attendant.
Everyone is required to evacuate the building by the safest and closest exit
Never use an elevator in the event of a fire alarm
One outside the building, make your way to your dedicated meeting point
Only re-enter the building when instructed to do so by someone of authority.
We have a wide range of instructional signs suited to all manner of work environments from our yellow and black Caution signs through to our self-adhesive Fire Door stickers.
Write a review for fire exit sign 150mm x 450mm
| | |
| --- | --- |
| Your Name: | |
| E-mail: | We will never display or pass out your e-mail address. |
| Overall Rating | |
| Please select the image of a Paint Brush: | |